Day 1. Durban - Rocktail Beach Camp (Dinner)
Arrival to Durban International Airport, meet and greet & transfer to Rocktail Beach Camp for two night's accommodation at Rocktail Beach Camp on a dinner & breakfast basis.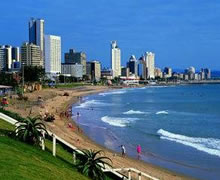 Rocktail Beach Camp is set back and shaded by the sanctuary of the lush Maputaland Coastal Forest covering the ancient dunes that make up the edge of South Africa's KwaZulu-Natal coast. With the Maputaland Marine Reserve just offshore and the beach a leisurely 15-minute walk from the camp, there are world-class diving and snorkelling, remote, unspoilt beaches and other beach adventures to be had. The camp consists of 12 rooms (including 3 family units), most of which have a view of the ocean. All have en-suite bathrooms, open-feel indoor shower and overhead fans. Rocktail Beach Camp also has a central dining room, bar and lounge with large wraparound veranda and pool. From a scuba diving perspective, Rocktail Bay is unique. Not only is the diving conducted within a Reserve and World Heritage Site along unspoiled reefs, but divers have the luxury of knowing that they alone have access to these sites and are the only underwater visitors along this stretch of the coastline.
Day 2. Rocktail Beach Camp (Breakfast and dinner)
Beach experience at Rocktail Beach.
Day 3. Rocktail Bay - Amakhosi Private Game Lodge (All meals)
After breakfast, transfer to the Amakhosi Private game lodge for two night's accommodation at the Amakhosi Game Lodge. 3 meals & 2 game drives per day Amakhosi is a Big 5 private game reserve, and is located on the banks of Zululand's Mkuze River in a 12 000 ha Private Game Reserve. Accommodation includes luxury River Suites complete with lounge, bedroom, bathroom, separate shower & toilet, and private deck overlooking the river. Air conditioning, minibar, electronic safe, phone and a laundry service.
Day 4. Amakhosi Private Game Lodge (All meals)
On safari.
Day 5. Amakhosi Private Game Lodge - Makakatana Lodge (All meals)
After breakfast, drive from Amakhosi Lodge Game Reserve to Makakatana Lodge, St Lucia for two night's accommodation at Makakatana Lodge with 3 meals & selected activities.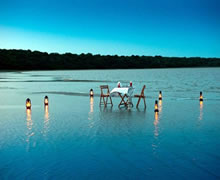 Makatana Bay Lodge is the only privately owned Lodge set within the Greater St Lucia Wetland Park World Heritage Site, Africa's largest natural marine estuary. The pristine Indian Ocean beaches, combined with the St Lucia Estuary stretching inland for 65 km, provide an undeniable attraction to lovers of wildlife and encompasses 325 000 hectares of pristine wildlife reserve. The Lodge is positioned in the forest on the banks of the lake, 15 km from the estuary mouth in the heart of the park and accommodates only 12 people, enhancing the intimacy, privacy and personal service. Wooden walkways lead to the rooms set in the lush indigenous forest. The park supports coastal wildlife and turtle nesting grounds in the marine reserves, 367 bird species and five different ecosystems.
Day 6. Makakatana Lodge (All meals)
Beach experience
Day 7. Makakatana Lodge - Sandals (Breakfast)
After breakfast, transfer from Makakatana Lodge to Sandals, Umhlanga for 2 night's accommodation at Sandals Umhlanga.
Sandals is ideally situated in the picturesque town of St Francis Bay. The ambiance of this"Boutique Guesthouse" is a unique and international blend of superb hospitality, cuisine and service. With a lush tree and palm-fringed thatched house it is decorated in a tropical-African flavour. Situated 50 metres from the main beach, nestling amongst large indigenous rocks echoing to the sounds of birds, Sandals offers you unsurpassed luxury with its pool bar holiday setting and spacious wooden decks. Accommodation is spacious & with individually decorated bedrooms, with sliding doors, open onto your private balcony or the tropical garden. There are 10 large en-suite luxury bedrooms, all with baths, showers, and extra length beds.
Day 8. Sandals (Breakfast)
Today, head out and explore Durban. Enjoy a city tour or one of several specialist tours including the battlefields tour of the Anglo-Zulu war history, where two of the most famous battles fought between the Zulu and British Armies, took place. Visit the eerie battlefields of Isandlwana and Rourke's Drift or remain in Durban, a city full of history Drive past the harbour entrance, one of Africa's busiest Ports and into Maydon Wharf. The tour will then head into the Botanical Gardens, famous for housing orchards. Return to your lodge.
Day 9. Sandals - Durban (Breakfast)
After breakfast, transfer to the International Airport for your flight home.